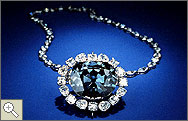 Photo of the

Hope Diamond

courtesy of the

Smithsonian
Most people in the U.S. know that the largest deep blue diamond in the world, the
Hope Diamond
, is housed at the
Smithsonian Museum of Natural History
in Washington, D.C. What you may not know--I did not know--is that it is believed to have been mined from the legendary and now depleted Golconda diamond mine in India. The diamonds that came from the Golconda mine are identified by a complete lack of nitrogen, making them the most beautiful diamonds in existence, with their own special classification of
IIa
. Only 2% of all diamonds qualify for this classification. Golconda diamonds are some of the largest diamonds in the world, and are also characterized by their unique "old-world" cuts.
The Golconda mines were opened in about the 4th century B.C., and were depleted by the mid-1800's. Some of the most famous diamonds in the world come from the mine, including the pink
Darya-i-Nur
(Sea of Light)
that is set in a brooch, and the pink
Noor-ol-Ain
that is set in a tiara, both of which are in the collection of the
Iranian Crown Jewels
; and the
Orlov
that is set in the sceptre of
Catherine the Great
.
For more information, see the
DiamondVues
website, and the
AllAboutGemstones
website.